Respecting Ethical Requirements
In PULSAR'S secure zone, dashboards are available for research projects. The project's dashboard allows you to see the list of participants and access several functionalities for managing their participation. The secure zone also allows participant access to various functions from within their participant record, whether it is to view or modify their personal information or consents, contact project teams, or cease participation in the projects in which they are involved.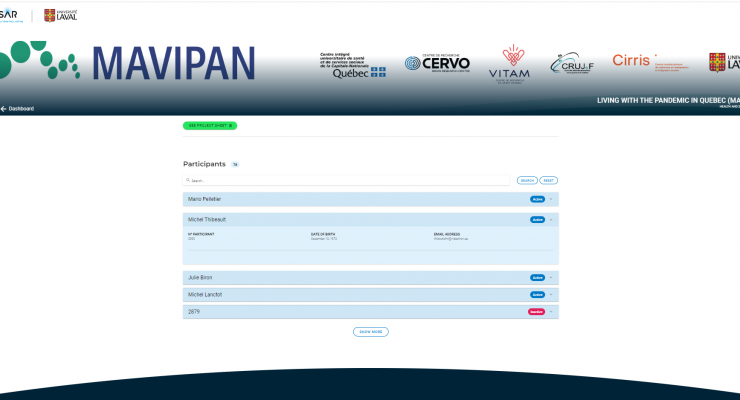 Quick and efficient search for participants
- Search by keywords, e.g., email, last name/first name
- Sort the list based on certain attributes
Consult and update of participant's personal information
- Elements displayed are fully customizable
- It is also possible to update some personal information
See the documents deposited in the participant's record
- For example, results of a study
See the registration status (active, inactive)
- A participant becomes 'inactive' when he withdraws from a project
Access to a virtual machine (VM)
- Access your research data through a virtual machine (VM)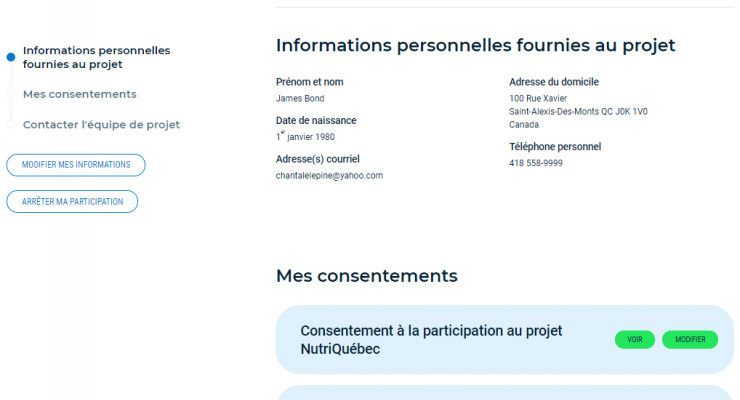 Consultation of personal information
- View information requested on registration forms
- The participants can update some of their personal information themselves
Consultation of their consent forms by project
- The proof of consent is saved, i.e. the identity of the person, the time and date of consent, the version of the ICF and its content
- Consent is requested prior to data collection
- Several consents are managed per project (e.g., project consent, Sustainable Health Databank consent, etc.)
Consultation of documents deposited in one's record
- For example: study results
Withdraw from a project
- The participant may withdraw from a project at any time, with the option of retaining or deleting their project data
- The withdrawal is recorded in the database, with the date of the withdrawal and the identity of the person who made the withdrawal
Contact Project Team
- The participant can contact the research team for more information about the project, the questionnaires and the consents, or to change their information or consents
What Our Users are Saying
"The support offered by the PULSAR team for participant enrollment ensures an ethical and scientifically rigorous conduct of the project."

Annie LeBlanc and Marie Baron, MAVIPAN project
To learn more about our tools and services to support participation management, contact us using the form below. A member of our team will contact you promptly.